Registration is Now Open for the
2022 ARRL National Convention
ARRL National Convention and Orlando HamCation® | February 10-13, 2022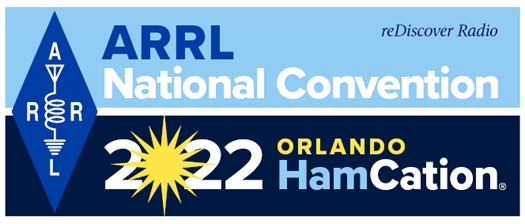 Step 1 | Register Now to attend the full-day ARRL National Convention Program on Thursday, February 10, 2022.

Step 2 | Get Your Ticket for Orlando HamCation. HamCation is Friday, Saturday, and Sunday, February 11-13, 2022.
Quick Facts

What: 2022 ARRL National Convention, hosted by Orlando HamCation

When/Where: 
ARRL National Convention special all-day program — Thursday, February 10, 2022; DoubleTree by Hilton Hotel Orlando at SeaWorld, 10100 International Dr, Orlando, FL 32821 | Register Now

Agenda: Thursday, February 10, 2022 DoubleTree by Hilton Orlando at SeaWorld
8:00 AM
Arrival and Registrant Check-In
8:30 AM to 11:45 AM
Training Tracks / Morning Session
12:00 PM to 1:00 PM

National Convention Luncheon with
Keynote Speaker: ARRL CEO David Minster, NA2AA

1:15 PM to 5:00 PM
Training Tracks / Afternoon Session
Orlando HamCation® — Friday, Saturday, and Sunday, February 11-13, 2022; Central Florida Fairgrounds and Expo Park, 4603 West Colonial Drive, Florida 32808; | Tickets and Info
Official Websites:
www.hamcation.com
www.arrl.org/expo

Other Related Activities and Information:

The Florida Contest Group (FCG) Contest Banquet — Friday, February 11, 2022 — www.floridacontestgroup.org

Orlando travel planning — www.visitorlando.com

What is amateur radio (or "ham radio") — www.arrl.org/what-is-ham-radio
reDiscover Radio at the
ARRL National Convention and Orlando HamCation®
February 10-13, 2022
ARRL, the national association for Amateur Radio® and the Orlando Amateur Radio Club (OARC) will hold the 2022 ARRL National Convention and Orlando HamCation® February 10 – 13, 2022 in Orlando, Florida. The convention theme, "reDiscover Radio," is a rallying call for radio amateurs committed to developing knowledge and skills in radio technology and radio communication.
The convention will kick off on Thursday, February, 10 with a series of day-long ARRL Training Tracks and a National Convention luncheon at the DoubleTree by Hilton Hotel Orlando at SeaWorld. Registration is open now at www.arrl.org/expo, and an early bird registration rate is in effect through December 15.

HamCation will host the rest of the convention on Friday, Saturday, and Sunday, February 11-13, 2022 at the Central Florida Fairgrounds and Expo Park in Orlando — an 87-acre lakefront fairgrounds. OARC President John Knott, N4JTK noted that holding the convention in 2022 will mark the 75th anniversary of HamCation — one of the largest annually held gatherings of radio amateurs in the US. The published gate figure for 2020 was 24,200 (all 3 days). "We want our diamond anniversary show to be an exciting, 5-star event," said Knott. "We look forward to seeing you in Orlando in February."

HamCation can be followed on Facebook, Twitter, and Instagram.  
Further details will be shared via these official websites:
For information about ARRL and amateur radio, visit www.arrl.org and www.arrl.org/what-is-ham-radio.
Training Tracks | February 10, 2022
Participants will choose a Training Track during National Convention registration.
All registrants will attend the National Convention Luncheon.

Training Track #1
Contest University
Track Leaders: Tim Duffy, K3LR & Teri Grizer, K8MNJ

Presenters: Fred Kleber, K9VV NP2X; Chris Blake, NX4N; Luis Romero, W4LT; Max Fountain, KJ4EUT;

Claudio Veroli, I4VEQ.
CTU is coming to Orlando! Learn from some of the top contesters in the world. This is an opportunity for new contesters as well as already-competitive operators looking to hone their skills. Instruction includes general contest operations and contest station skills, and many resources for additional information and tools to further enjoy contesting.

Training Track #2
Emergency Communications Academy
Track Leader: Rick Palm, K1CE

Presenters: Gordon Gibby, KX4Z; Mike Walters, W8ZY; Curt R. Bartholomew, N3GQ; C. Matthew Curtin, KD8TTE; Helen Straughn, WC4FSU; Leland Gallup AA3YB; Earl McDow K4ZSW; and others.
Speakers from across Amateur Radio emergency communications training will lead a wide range of topics and best practices. Participants will learn the skills and roles needed to be an effective volunteer when responding to incidents to assist served entities. Topics include an overview of amateur radio response during disasters, message traffic handling, ARES®, AUXCOMM, Winlink, emergency antennas, and emergency power.

Training Track #3
Hands-On Handbook

Generations of radio amateurs have turned to The ARRL Handbook to be inspired to be radio-active in new ways! This series of presentations will take a deeper dive into a handful of topics covered in the Handbook, encouraging you to explore a variety of amateur radio activities. Topics (subject to change) include portable operating, remote station control, amateur satellite communications, and HF digital modes.

Training Track #4
Technology Academy
Track Leader: Kristen McIntyre, K6WX

Presenters: Ed Hare, W1RFI; and others.



Amateur Radio is based on technology! The more we know about how things work, the more effective we can be as radio operators. Hear from some of the technical experts in our community on antennas, radios, SWR, grounds, and Hints & Hacks to keep our stations humming along at maximum efficiency. You don't need to be an expert. You just need to know one!